NHSLHA is a non-profit, professional association and state-level affiliate of the

American Speech-Language-Hearing Association

(ASHA). We are dedicated to providing students, professionals and consumers with accurate information regarding the speech, language and hearing sciences.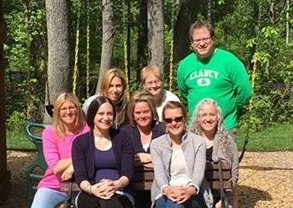 ACE Award Winners
Congratulations to:
Mary Behl, Deborah Bennett, Annie DiVello, Anne Doyle, Susan Drouin, Kathryn Glennon, Heather Marie Souza and Irene Stewart Cohen!
Your commitment to continuing education is an inspiration to SLPs in NH!
How NHSLHA Works for You
PAID

lobbyists

to alert us to and support legislative efforts in this dynamic and challenging climate.
DISCOUNTS on Continuing Education opportunities that include interactive and educational conferences with door prizes, raffles, vendors and donations
FREE subscription to the NHSLHA News, our quarterly newsletter that provides FREE materials, FREE articles from SLPs around the country and action alerts that are in your professional interests
FREE mentorship opportunities for students, CFs, new SLPs and established SLPs looking to expand into new areas
Regional Representatives to offer support and connection in your area
Access to a community of professionals with decades of combined experience
Access to a wealth of information on topics related to Hearing, Language, Speech and Swallowing
Professional Clout: Being a card carrying member of a professional organization provides members with some professional influence and who doesn't want a little street cred?
Networking:  Your state association can connect you with professionals who share your passion. Those professionals possess a collective brainpower that can support you in a wealth of ways including, mentorship, problem solving, research, access to leadership in the profession, advocacy and general support.
Conferences:  State associations provide continuing education opportunities that are often reasonably priced.  Additionally, registration costs are often reduced for members, another boon!
Employment resources: Many state associations list job opportunities on their website.  Some can even assist in resume or cover letter writing, interview skills, or job search strategies.
Advocacy: Your state association is hard at work behind the scenes advocating for the needs of our profession.  Representatives from associations tirelessly advocate on your behalf on the issues that impact us daily.  Through their efforts hot button issues like caseload size, insurance caps, paperwork burdens and licensure are brought to the attention of our legislators.  They also keep membership abreast of federal and state legislative developments that impact us as a profession.