Becoming a Speech Language Pathologist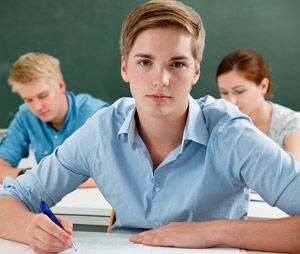 Speech Language Pathologists have a challenging, but rewarding job. They can make a difference in the lives of children, adults, and senior citizens.
Here are some indications you might be a successful candidate for becoming a Speech Language Pathologist:
Are you patient? Speech language pathologists must be extremely patient because it can take weeks, months, or years, to see notable results in their clients' abilities. Tremendous attention to detail and sharp focus are also necessary in the all aspects of the patient's progress.
Do you work well with others? Being able to communicate and work well with either a team of professionals or a client is key. A speech language pathologist benefits from being comfortable asserting their knowledge to ensure proper care and advocacy for a patient. One also benefits from being team-minded and willing to work collaboratively with other professionals to obtain results.
Do you have strong communication skills? Strong communication skills are mandatory for speech language pathologists, as they are responsible for explaining diagnoses, evaluation results and treatment trajectories in manners easily understood by patients and families. Dynamic listening skills are also necessary, as speech language pathologists often work with patients who benefit from support when expressing themselves.
Do you have strong written communication skills? Documentation in the forms of: writing evaluation reports, recording treatment sessions, charting patient progress, among others, are all key components of a speech language pathologist's scope of practice. These require a professional with an eye for detail, task-directed persistence and strong written communication skills. A successful speech language pathologist is thorough, diligent, organized and meticulous.
Do you like to teach others? Speech language pathologists educate people regarding improvement of their speech, language, cognitive-linguistic skills or swallow safety. They are also leaders in their places of employment, often asked to present to professionals with varying backgrounds. This encompasses behavioral management, environmental modification and caregiver/staff education.
Do you like to learn? Speech language pathologists must complete a master's degree. Programs include a combination of science and language arts. Having strong written and oral communication skills, as well as solid analytical reasoning ability are essential to success. If you are interested in neurology, human development and linguistics, are interested in an extensive and thorough education and mentorship opportunities – speech language pathology may be for you!
The Demand For Speech Pathologists
The demand for speech pathologists is expected to continue to grow. If you think speech pathology is the career field for you, consult with your school or college adviser.