Should I Become a Speech Pathologist?
Also see: How to become a Speech Language Pathologist in New Hampshire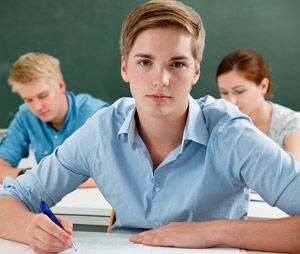 Speech therapists have a challenging, but rewarding job. They make a difference in the lives of children, adults with disabilities, and senior citizens.
Here are some good ways to tell if you are a good candidate for becoming a Speech-Language Pathologist:
Are you patient? Speech-language pathologists must be extremely patient because it can take weeks, months, even years, before they see notable results in their client's speaking abilities. Tremendous attention to detail and sharp focus are also necessary in the evaluation of the patient's progress.
Do you work well with others? Being able to communicate and work well with either a team of professionals or your client is key. The speech pathologist should be comfortable being assertive  to ensure proper care for the patient but also needs to be team minded and willing to work collaboratively with other professionals to get results.
Do you have strong communication skills? Strong communication skills are a mandatory for speech-language pathologists as they will have to explain diagnoses, diagnostic test results and proposed treatment in a way that is easily understood by patients and their families. Good listening skills are also necessary, as speech-language pathologists often work with patient's who make slow progress.
Do you have strong WRITTEN communication skills? Documenting evaluations, therapy sessions, patient progress and other information is a key part of the speech pathologist's job. It requires someone with an eye for detail, strong written communication skills and good task focus. A top-performing speech pathologist is thorough, diligent, organized and meticulous.
Do you like to teach others? Speech-language pathologists teach people how to improve their voices or increase their written or oral language skills in order to communicate more effectively.
For those patients unable to produce any type of recognizable speech or language, speech-language pathologists will teach their patients some type of alternative communication. This includes teaching their patients how to use automated devices or to communicate effectively through sign language. Speech-language pathologists may work with patients who have difficulty swallowing. These patients are taught how to strengthen their muscles so that they may swallow without inhaling when they eat or drink, and so that they can prevent choking. Speech-language pathologists also teach family members, including how to contend with the stress  that goes hand in hand with speech disorders and various therapy techniques that can be performed at home.
Do you like to learn? Speech-language pathologists must complete a master's degree. The program is a combination of science and language arts. Having strong written and oral communication skills, as well as solid analytical reasoning ability are essential to success. If you are not interested in neurology, human development, or grammar, then it will be challenging to finish a program. You must also must pass a test to become licensed. If you don't want to go to graduate school, this career is not for you.
The Demand For Speech Pathologists
The demand for speech pathologists is expected to continue to grow. If you think speech pathology is the career field for you, consult with your school or college adviser.